The Request list contains all requests across the entire network and can therefore become long and contain many files.
Therefore, we show only the Requests that are relevant to you (according to your profile linked to a community, a region or business unit). Each time you log in to Cubigo, your relations to one or more communities are verified and the request list is then built for you in this way.
In addition, you can use the handy filters at the top of the list to retrieve specific requests you are looking for in the list.
You have these options:
- use the search field to enter a provider name and search for those requests
- use the checkbox at the appropriate level in the tree to retrieve those requests for that community (or communities)
- place multiple checkboxes if you wish to retrieve requests from multiple providers: you will see the number of providers selected appear at the top of the filter.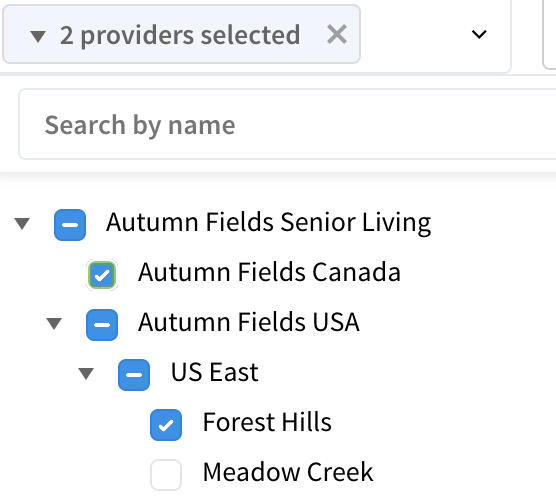 - Click on the 'Only this one' box that appears next to the main provider, if you wish to retrieve only the requests linked to it.
Please note: 'Quick requests' to which no preferred provider has been assigned can be found below.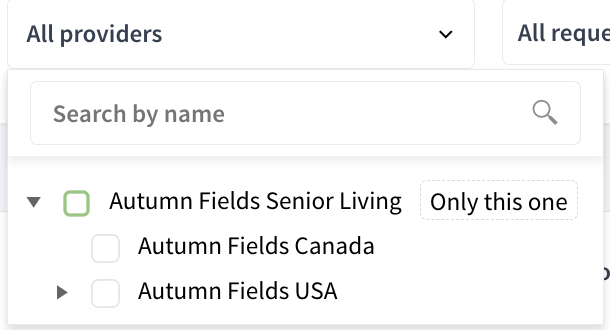 If you are still looking for information about a request outside your residence or cluster, you can undo the pre-programmed filtering by clicking an x in the filters. You can then freely search for requests linked to other providers.
To go back to your preset filtering, use the ' Reset' button. This will prepare the list again according to your profile.