Option 1 : Task widget on home screen
The task widget on the home screen is your daily guide to following up on the Pipeline tasks you are involved in. The widget splits into 3 categories (perspectives):
-tasks assigned to you : the CLM Pipeline tasks assigned to you as task manager;
-tasks to me as a SPOC : the CLM Pipeline tasks on applications for which you are SPOC;
-in my residence(s) : the CLM Pipeline tasks related to applications for the residence(s) to which you have a relationship.

The number at the top of the category shows the total of the open tasks measured from that perspective, with details below it depending on the time of day.
One click on the corresponding figure will take you directly to the corresponding tasks in the task list, from where you can modify, update, change the status, etc.
Overdue: all open tasks for which the due date (scheduled execution) has been exceeded;
Today: all open tasks with the completion date (scheduled execution) on the current day;
Next 3 days: all open tasks with the due date (scheduled execution) on one of the next 3 days;
By default, the completed tasks are not included in this widget. You can however bring up the completed tasks via the task list using the filter on task status. The figures in this task widget will automatically adjust according to the changes in the task in question, the due date and the task status.

Attention! This widget will only be shown if you have also activated the widget display via your personal profile. You can activate it via your profile on the top right: in the personal menu, you can hide or activate the widgets below.
Option 2: Filters in the task list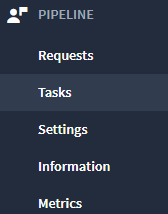 Using the filters at the task list, you can also follow up which task requires your follow-up.
To do this, use the filters at the top of the to-do list:
- tasks according to their status (pending, overdue, ...)
- task types
- all tasks assigned to me
- All tasks for me as account manager (tasks for the requests for which you are account manager/SPOC)
You can combine these filters with other filters such as theme, task status, provider, etc.

In addition, you will also receive a reminder via email from Cubigo (your residence) as soon as a new task has been assigned to you or if a task assigned to you is overdue (exceeds the scheduled completion date). You can use the link in this email reminder to click through to the task list in CLM Pipeline to take action.