Each request requires one or more tasks to meet the customer's needs and achieve the conversion.
All requests are listed in the Request Overview: see Pipeline/Requests. Each horizontal line represents one request and indicates the number of tasks associated with the request. Open the request to read all the relevant information, spread across the tabs Contact/Theme (care need)/Referral/Tasks. Via the Theme tab, you can find all relevant information that was registered and describe the care need and timing.
Go to the tab Tasks to create the first task as the first action to be completed via the button ' Add Task'.
if you are not the contact person, you will be asked for what reason you wish to view this task; please choose the appropriate reason.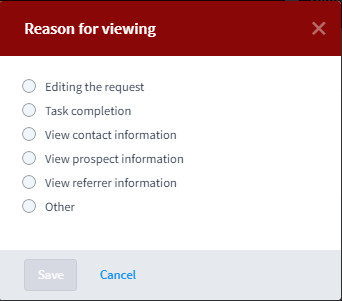 In the task detail, you describe all the details about the task to be performed, the due date, the task executor, etc.
Task Description
Type of task
Creation date task
Tracking date = due date for execution
Executor
Note
The executor is the expert in your organization who can take this task to heart and ensure proper execution. Type in the name of this colleague and select him/her from the results list. Click Delete if you wish to appoint another colleague as the executor. You can also take on this task yourself and select your own name.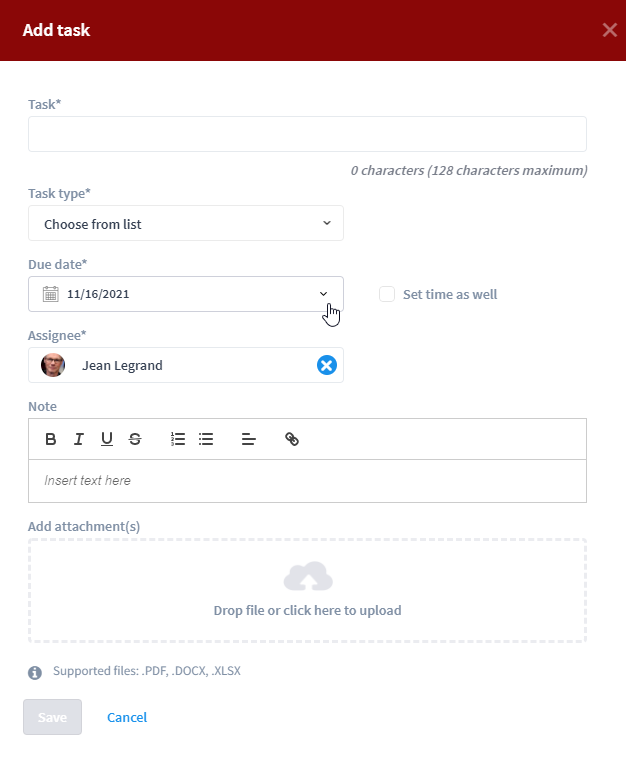 In this way, the first task to complete this request is registered - this task receives the initial starting status 'Created'. The task executor will receive a notification about this with an indication of the due date.
If the subsequent task can also be scheduled, then add this task additionally. This promotes successful conversion and reduces the lead time. The follow-up tasks are displayed chronologically in the task's thread. The icon to the left of the task detail refers to the task type.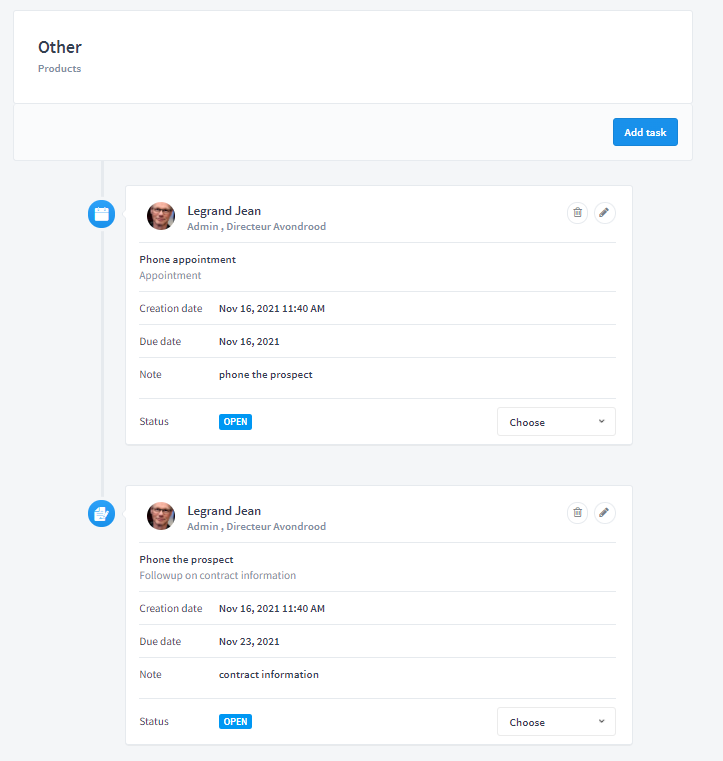 Once the task is created, you can find this task in the Tasks list: BO panel Pipeline/ Tasks. By default, this list is sorted according to the creation date: the last tasks created will be found at the end (last page).

Use the filters to bring up certain tasks; use the sorting via Tracking Date to arrange the tasks chronologically by tracking date (di. due date for execution). Use the tickbox to retrieve only those tasks for which you are designated as task executor.

Summary