From BO Pipeline, go to Requests for the list of all requests across your organization.
Then use the search field at the top in combination with the date and the filters to search for the request you wish to edit/view. By default, only open applications are shown in this list (closed applications can be retrieved via the filter).

Check the box if you only want to view the requests for which you are responsible as a relationship manager/SPOC.
Each line in this list represents one specific request with the most important information displayed per column. On the far right of the line, you can see the status of this request.
For certain requests regarding 'sensitive' topics, the information of the requestor (contact person) and the prospect is shown as 'anonymous' to protect personal information.
When you open this request, you will receive a notification that it contains 'sensitive information. If you are responsible for following up on this request and still wish to view this request detail, you will be asked for justification.
To inform everyone about the status of a request, you can give the request the appropriate status. You can also search on a status.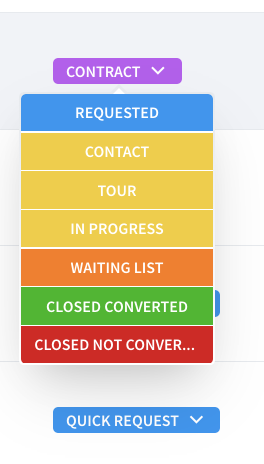 Click anywhere on the horizontal line to open the request: you will see the customer's name at the top and the unique number of the request.

Then you can consult and/or update/modify the detailed information of this request. You can do this for all sub-steps of the request: contact/theme/referral/tasks.
Use the brush icon to modify/update certain items. This adjustment is made centrally and is available to everyone.
Do you want to change the contact person for this request? This can be done in the first tab 'Prospect' or 'Customer'.
Tip!
You can freely 'hop' through this detailed information from one tab to the other.
If you wish to create a new task to complete this request, click on the tab 'Tasks'.
The tasks are arranged chronologically with this request. You can find each task in the list 'Tasks' and further adapt it by clicking horizontally on the task line. A sidepanel will open to edit or complete the task detail.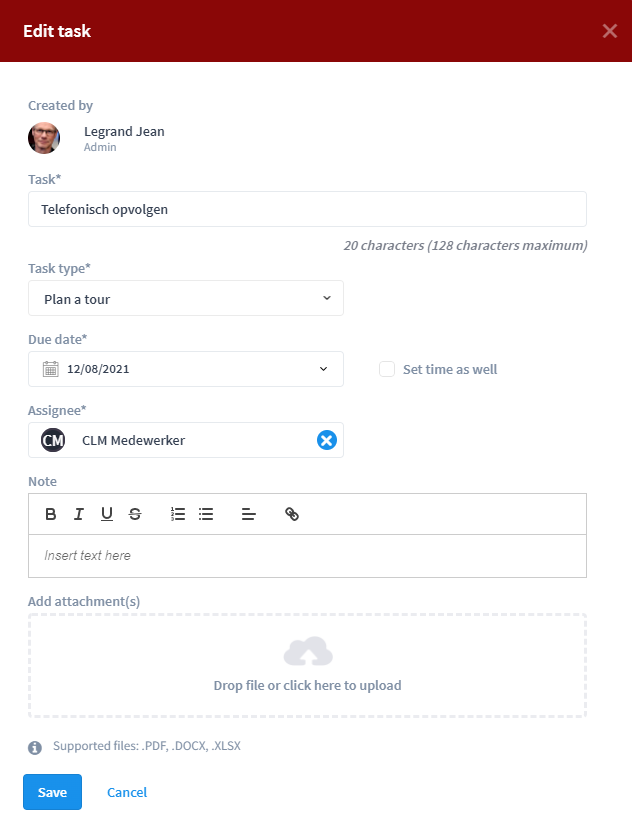 Tip!
The list of Requests contains information in blue: these fields are clickable and take you directly to the profile of your customer or contact.