With the IT Support cube you can request IT services to be carried out in your apartment to your network and/or devices.
Begin by opening the IT Support cube by clicking or tapping on the icon. The cube opens and you see an overview of this service as follows:
You can place an IT support request by pressing the button [Place request].

You can fill out the form with the following elements regarding your request: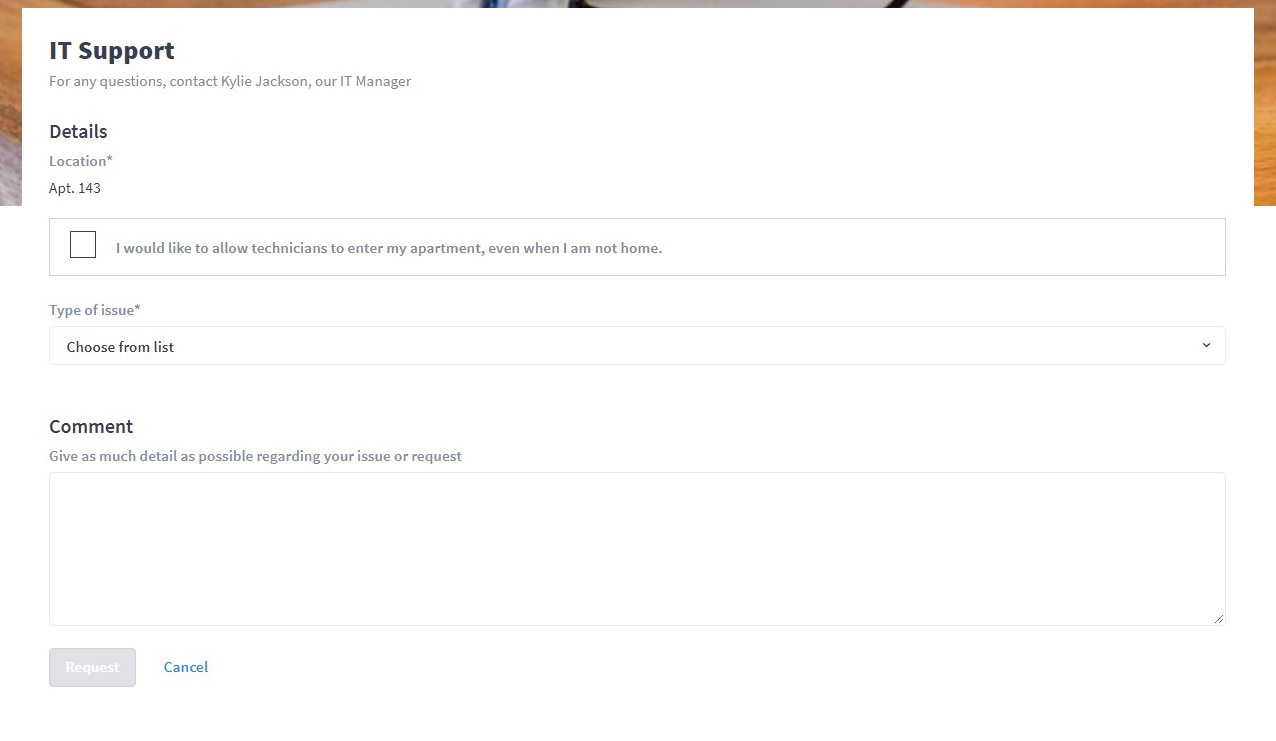 Location
Here you select the location where the support needs to be carried out. The default location is your apartment.
If you request IT support for your own apartment you can select the option to allow staff to enter your apartment, even when you are not home.

Room
Select the room where the issues must be solved. If the room is not in this list it is possible to select [Other] as a value. In that case please specify the room in the comment.
Type of issue
Specify the type of IT support you're looking for. If your issue is not in this list, you can select [Other] as a value. In that case please specify the issue type in the comment.

Comment
Sometimes it is necessary to add a bit more detail about the request. This will help staff to better understand the issue and help them to solve the issue more quickly & efficiently. Don't hesitate to add any relevant issue in this field.

Confirm request
Once you have filled out all the necessary information you need to confirm the request by pressing this button. Only then will this information be stored and will the IT staff be notified of your request.
Notification
After placing the request we will take you back to the previous view and a message will appear at the bottom-right corner to confirm the request:

The responsible staff member will also be notified and will reach out to you if there are any questions or to confirm a time & date for the housekeeping request to be carried out.