The procedure described below applies to any service. We will take the Meals service as an example. From the back office menu on the left (accessible via the icon along the community logo at the top), go to the Request submenu within the relevant service.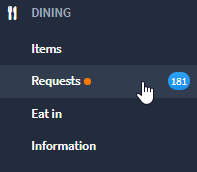 Clicking on Requests opens a new screen with the overview of all requests and their corresponding details and action buttons. This overview can be spread over several pages, allowing you to browse.
The overview has fixed columns at the top that display the details for a request.

You can filter or sort by column level in this view, using the appropriate icons. Click cancel to undo the filter.
New requests
In the submenu, a number indicates whether and how many new requests there are. New requests are indicated in the overview with a fine blue line at line level.
Date
At the top of the overview, you can set the date for which you want to see the requests. This date refers to the desired delivery date, not the date of request.
Change status
The overview has an Action column at the end. Here you can change the status of each request according to the internal processing. In this way, you can process each request individually.
Select
Each request (line level) has a check box in front. You can process multiple requests at once by activating the check box and selecting the desired action from the drop-down at the bottom. This is useful for the kitchen in order to process the meals for a certain time together and label them as 'ready'. In this way, a notification is sent to these residents at the same time.