We support different types of roles in Cubigo. We distinguish between 2 main categories being multiple types of staff users at one hand and resident or guest users on the other hand.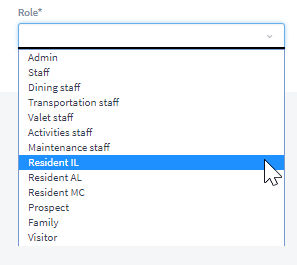 While creating a new user, the admin selects the appropriate role for this user.
Staff accounts
Click here to see an overview of all staff roles and their rights.
Admin account has access to user management and all other services. Admin account has access to all the sections in the user profile and can write/edit the information.
Each service has a staff account that gives access to that specific service. Staff accounts have limited access to edit the user profile information. They have access to Overview, Challenges and Notes.
On top of those we have multiple staff users with 'limited rights', as they behave as 'limited' staff users. Limited in a way that they do not have access to the backoffice to manage requests, content and users. However, they can create requests for residents through the frontoffice, via the plus sign on the homescreen cubes. They can also sign up residents and take attendance through the frontoffice activity details. They appear in the staff directory (fill in the specific title). These accounts are applicable for volunteers, front desk personnel, nursing personnel, hairdressers, etc..
Each staff account has its own 'focus', indicated in the profile. It relates to the department he/she works for and publishes information. Each time a staff member creates a content item, the focus group is selected by default, based on the profile setting.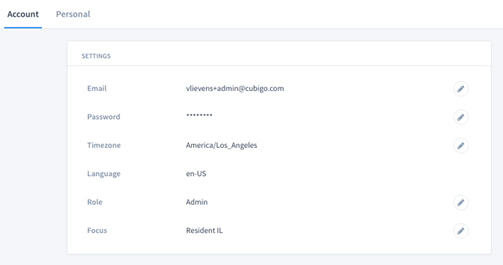 Resident accounts
Within the category of residents and guest, we distinguish between residents and others e.g. guest, prospect, family and visitors.
Residents who use Cubigo can see all information and services and also request them. We split up the Resident role in a Resident AL, IL and MC role to be able to publish specific content to these target groups.
In the Dining items overview, you can see to which target group a specific dining item is available (published).

Resident Privacy
Resident accounts can set their privacy setting- the information that is visible in the directory. To do this go to your personal profile. settings will be displayed:


Via the section 'Privacy' information can be made visible or can be hidden.

Resident accounts have the option to hide personal information from others by selecting [My profile is hidden] from the dropdown list in the top right. Or residents can hide a specific field of your profile by clicking on the pencil icon and select [Hidden] from the dropdown list and click [Save].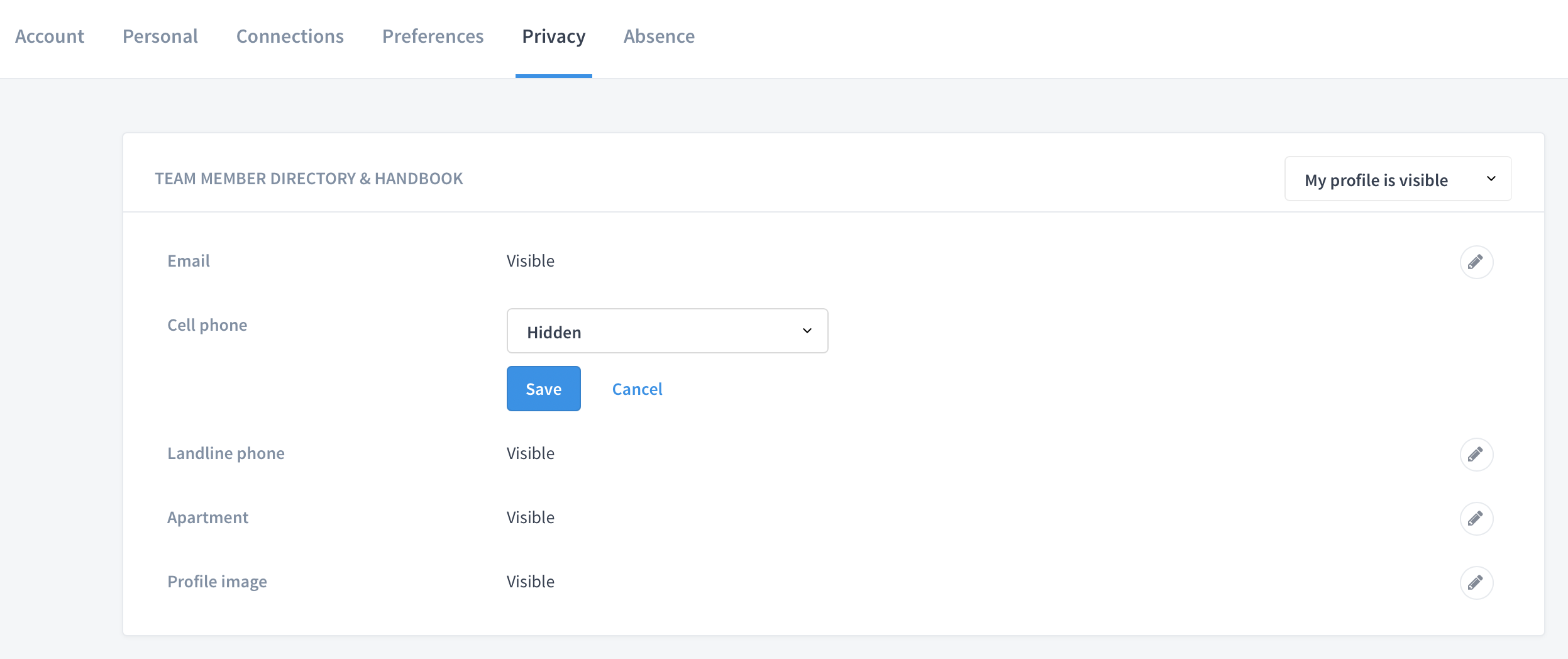 Other accounts
External users (prospect, family, guest, volunteer) can log into the community to consult the community news and activity calendar.
When creating a news article, dining item or activity, staff can now choose to show this content only to specific groups of users based on their role. Staff can e.g. publish news items specifically to prospects or family or create dining items that can only be viewed and ordered by IL or AL residents.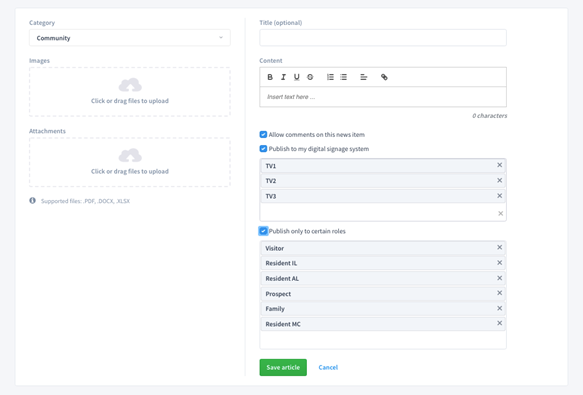 Other accounts privacy
Other accounts don't have the privacy tab in their accounts.

This is because their information is not visible for other contact user accounts (no directory), nor for the residents. Only team members of the community with access to user management can find them.
Committee chairman account
A user with the committee chair role can manage and create Committees news and the static content of the Committees cube. This user account can be given to residents, in addition to their existing resident account. The committee chair user is a separate user, not a resident account. This means that committee chair users need to switch accounts from their personal resident account (or use the committee chair user on a separate device). Do you want a committee chair user for your community ? Please contact your account manager. This user can't be created in the user management by admin. This account is hidden from the resident directory, role filter and handbook export.