We support different types of roles in Cubigo: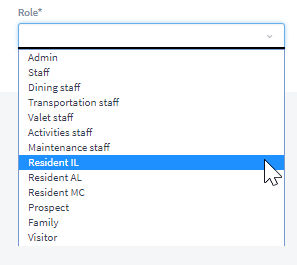 While creating a new user, the admin selects the appropriate role for this user.
Admin account has access to user management and all other services. Admin account has access to all the sections in the user profile and can write/edit the information.
Each service has a staff account that gives access to that specific service. Staff accounts have limited access to edit the user profile information. They have access to Overview, Challenges and Notes.
Each staff account has its own 'focus', indicated in the profile. It relates to the department he/she works for and publishes information. Each time a staff member creates a content item, the focus group is selected by default, based on the profile setting.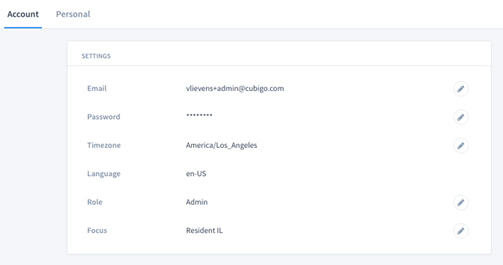 We distinguish between residents and others e.g. prospect, family and visitors.
Residents who use Cubigo can see all information and services and also request them. We split up the Resident role in a Resident AL, IL and MC role to be able to publish specific content to these target groups.
In the Dining items overview, you can see to which target group a specific dining item is available (published).

The 'external' users (prospect, family and visitor) can log into the community to see the activities, dining menus, news and information, but can not place requests, sign up for activities or see the resident and staff directory.
When creating a news article, dining item or activity, staff can now choose to show this content only to specific groups of users based on their role. Staff can e.g. publish news items specifically to prospects or family or create dining items that can only be viewed and ordered by IL or AL residents.