NOTE. Dining requests can be now printed automatically. Please contact your project manager to turn this on.
If you want to print a menu request, first open the Administrator's overview of the Dining cube in the side bar Dining | Requests.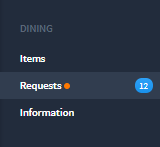 Starting from the overview grid, you can print your dining request (one by one or in bulk) to a Google cloud printer.
Select the status to print in the dropdown list.