Settings:
Cubigo needs your YouTube Channel ID
To Start:
Start Live Video in YouTube – Chrome is best.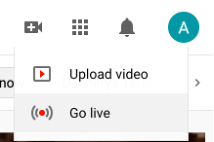 Settings: The video has to be public for the Live Stream.
Go live in Cubigo Back Office (Publish | Digital Signage | Settings) and start broadcast on selected channels. This takes over the channel and interrupts the carousel of slides. Priority messages are not visible

To stop:
Stop live broadcast on Cubigo
End video on YouTube – it will be saved - so you can replay it through scheduled broadcast in the future as well. It will be saved as public - so if you want it to be hidden, go to your Channel Library, and make it unlisted.