If you have faced a perpetual login screen you can do the following:
On your Desktop App
There are several command words at the top left of the field. Click on [Edit] and in the drop-down menu click on [Clear Cache].

The page will be reloaded, you need to insert your login and password again.
On your iPhone/iPad
If you have a home button you need to double click on it and swipe up the Cubigo App. Then open the Cubigo App and log in again.
If you do not have a home button then at the Home screen or in an app, swipe up from the bottom of the screen and pause while still pressing the screen. When the App Switcher comes up quick swipe upwards to close the app. Then open the Cubigo App and log in again.
In Browser
When you encounter this problem when using Chrome as a web browser, first attempt a hard refresh by holding Control and F5. If that doesn't work:
Right click with your mouse - choose Inspect to open the developer toolbox. This toolbox will open in a split screen.
Go to the menu bar on top and click on the double arrow >> and select Application
In the application menu choose "Clear storage"
Click on the "Clear site data" button (middle of the page under the pie chart)
Refresh the page with Control F5 again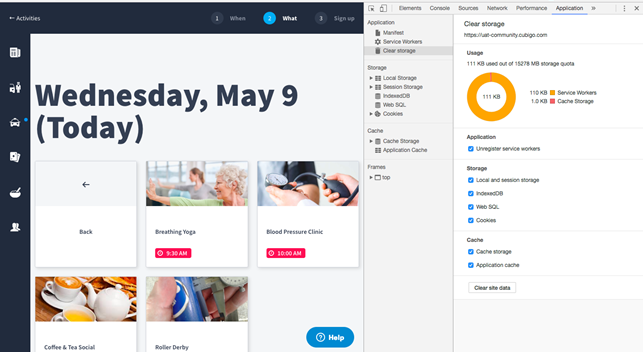 Now you're able to reconnect to your Cubigo environment by entering your personal login (e-mail) and password.