A staff member can also use the visit flow to sign in/out in the community.
Sign in
Log in with a staff account and go to the Visit cube in the front office.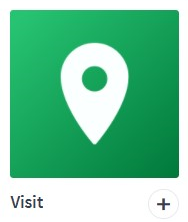 Create a visit for your shift: a visit request for staff has no host and can be requested for the same day.
When you arrive to the community go to the Kiosk (iPad with the Visit app) and scan the QR code on the screen: read here how to proceed with the registration.
Sign out
When leaving the residence, staff need to scan the QR code on the Kiosk again.
Open Cubigo on your device and tap [Scan] button. The Camera App will be opened. Point it steadily for 2-3 seconds towards the QR Code on the screen on the Kiosk to scan.
Since the app knows the user is signed in, he/she will automatically be signed out.