As part of the visit calendar configuration and settings, you can set the visit restriction per resident.
Go to Settings --> Assignment tab --> Action --> Restrict Visits
Option 1: per resident
Select the resident for whom you want to set or change the visit restriction (put a checkmark at the front left of the line).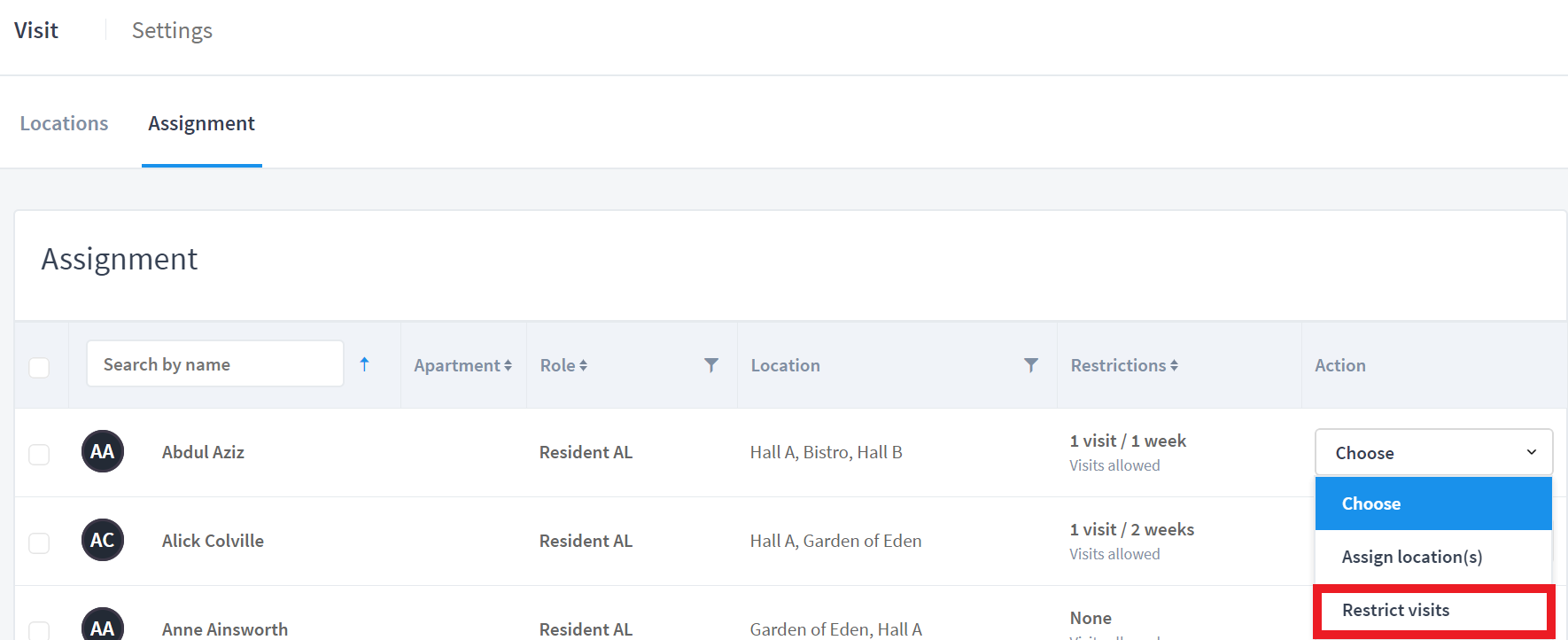 Then set 2 things regarding the visit restriction:
The number of visits
Per time period ( per week and/or per day)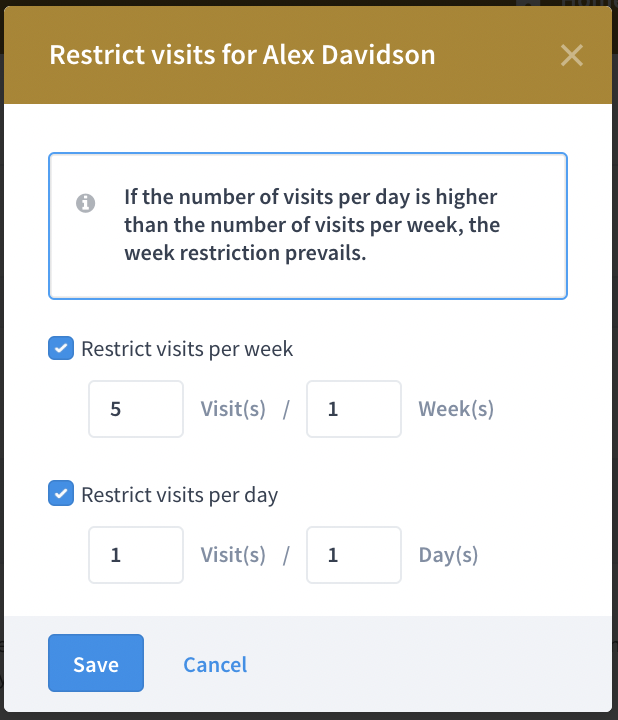 First, put a tick near Restrict visits. Then you can put #of visits per #week(s) and/or #of visits per #day(s).
Attention: if you do not set anything in terms of visit restriction, an unlimited visit is possible.
Option 2: Set default visit restriction for a group of residents
You can set a visit restriction for a group of residents, per role or a selection from your resident list.
To do this, first select the residents with a certain role in the list, eg resident IL or select a number of residents from the list by placing a checkmark at the front of the line.
If you select per role, put a checkmark at the top of the list at the front of the line and select all residents with this role.
At the bottom of the action button choose "Limit visits" and apply this action to all selected residents (with a checkmark) with the Apply button.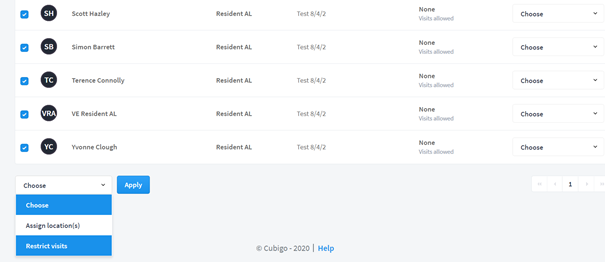 The pop-up clearly indicates how many residents you have selected, to which this restriction applies. After you save you can change these settings specifically for the resident.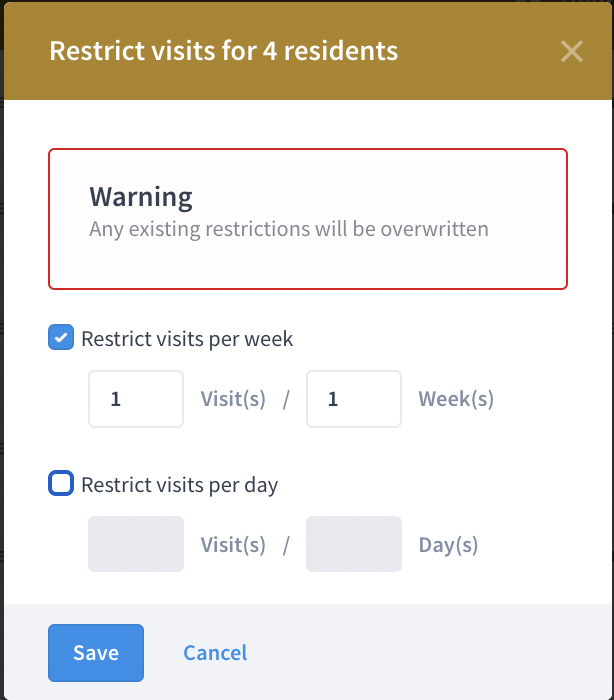 The visit restriction that you set can be consulted at any time via the resident's profile:
User management --> Profile --> Visits tab.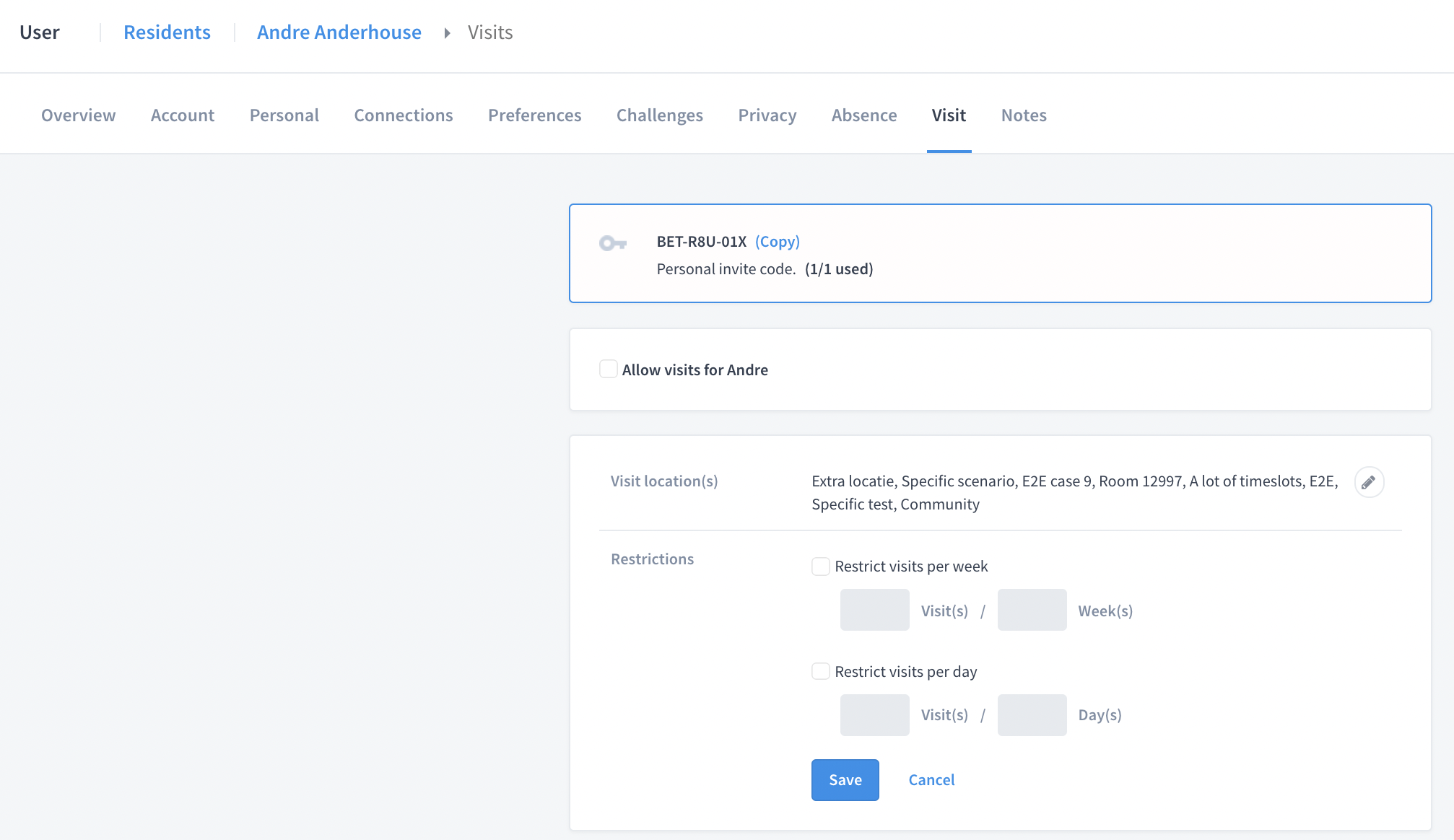 You can also change the visits restriction in this tab (via resident profile in User management) by clicking on the pencil icon.
What impact does this have on planning visit requests?
If the visit restriction (number of visits per time period) has already been reached, this will be displayed to the employee in the visit request screen with the message "the maximum number of visits allowed for this resident has been reached".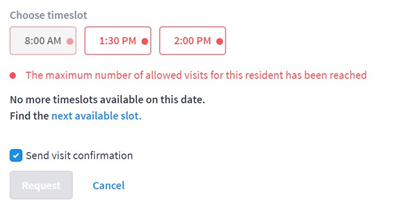 As an administrator, you can still ignore restrictions and schedule a visit to one of the free visit slots with a red dot. This way you make an exception for this resident.
You will receive a warning after which you can make your choice: confirm or cancel this request.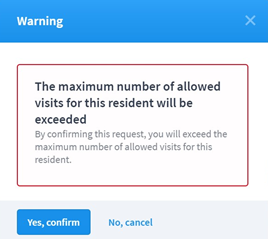 Note: The visitor (family) will not see this information. If the number of visits has been reached for a certain period, the visitor is immediately taken to the next free visit slot, regardless of the reason (visit limit already reached or no more free visit slots).