The application supports multiple visitor locations within one facility.
As part of the configuration and settings for the visit calendar, you can set one or more visit locations per resident. This is done via the back office panel either via the 'Assignment' tab in Visit --> Settings or via the resident profile in the User Management tab Visits.
Option 1
Go to Setting → Assignment tab → Assign Action
Via the Assignment tab you can read all details about the assignment of locations and visit restrictions per resident: see the specific column Location
A resident may have one or more visiting locations. There is no limit to the number of visit locations you can assign to a resident.
Please note that a visit location is only active if a visit calendar is also linked to the visit location.

Use the action button (on the far right of the line) to assign a visit location to a resident.

You have to choose the visiting location from the list of locations; all the visiting locations also appear in this list those for which no visiting schedule is active.
Option 2
Set visiting location for a group of residents.
You can also set a visiting location for a group of residents, per role or a selection from your resident population.
To do this, first select the residents with a certain role from the list, e.g. resident WZC plus, or select a number of residents from the list with a tick in front of the line.
If you select per role, place a checkmark at the top of the list at the front of the line and select all residents with this role. Choose 'Assign location(s)' at the bottom of the action button and apply this action to all selected residents (with a checkmark) with the Save button.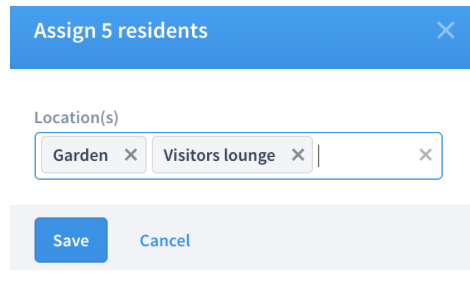 You have 2 options:
1/ add an additional visiting location (while retaining an already allocated visiting location)
2/ modify the assigned visiting location
The new visiting location(s) are listed in the column Location in the overview.
You can select/filter on this column to check which residence is assigned to a particular visiting location.
If you wish to delete a visiting location, select the option 'replace all previously assigned'.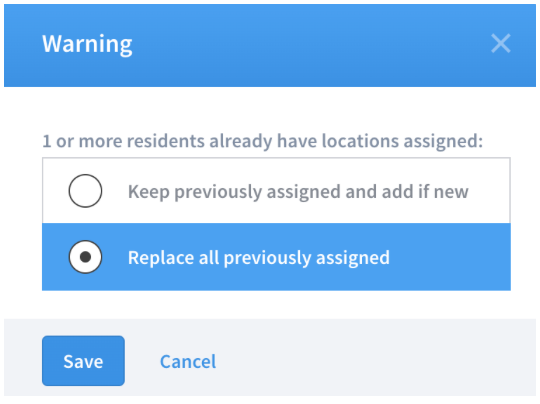 The visiting location(s) you set can be consulted at any time via the resident's profile:
User management → Profile → Tab Visits.
You can also change the visit location (via resident profile in User Management) by clicking on the pencil icon.
Click the cross (x) if you wish to remove a location. Click on the open space within the blue frame to call up the list of locations and select an additional location.

Both the visitor and the employees have the possibility to select one of the active visiting locations when planning a visit (Visiting request) and the free visiting slots. To do so, select the desired visiting location in the dropdown under Visiting location.