The capacity planning settings are located in the back office, in the section "Visit Settings".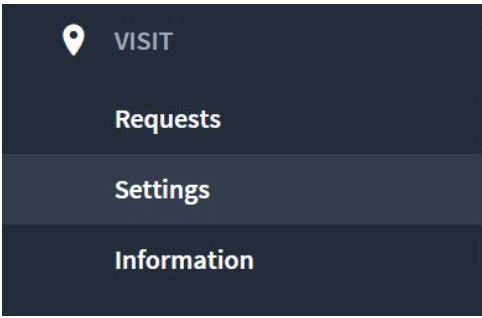 As the administrator, you define the visitor capacity as part of the visit schedule, i.e. the number of visitors you wish to receive per visit slot. In order to accommodate certain exceptions in your visit calendar, such as public holidays or to manage your visit planning flexibly in function of the changing staffing during the holiday period, you can set exceptions to the capacity.
Important: Exceptions are always linked to a visit schedule. The visit schedule determines the standard capacity per visit slot, the exceptions only apply to specific days in the calendar for an active schedule. If you change the visit schedule, the already defined exceptions will also be changed to the default from the visit schedule.
Via Settings → Locations you select the visit schedule for which an exception is needed. Each visit schedule has its own calendar for the exceptions. The calendar shows for which days a visit capacity has already been loaded for your residence.
Click on a day in the calendar → you will see on the right the corresponding number of visits and the maximum capacity per visit slot for this day.

Via edit you can change one or more visit numbers (capacity per visit slot) for that day. Use the arrows to increase or decrease the number of visitors.

Attention: We will show a marker if you make an adjustment that conflicts with your visit schedule (e.g. allow 1 visit before June 25th where the capacity in the schedule does not allow visits).

Click on Save to adjust the numbers.
Attention: Do this very carefully. Check carefully with the current list of scheduled visits if you wish to reduce the visit capacity. It is possible that all available places have already been reserved for this visit.
Note: If you wish to remove a visit slot from the visit calendar, you can set the number to zero. This will remove this visit slot from the calendar. Be sure to keep a close eye on the overview of already planned visits for this adjustment.