All associated information about each visit is collected in one central list. This list can be consulted from the left-back office panel, in section Visits --> Requests.
NEW! When the visitor is rejected during sign-in via Kiosk (e.g. temperature is too high), staff get a push notification (and email notification if this was configured) about the refusal.
Each line in this overview represents one visit ticket (detail).
This list is sorted chronologically. At the top, you can set the time period yourself.
Use the search function to search for the name of the visitor or resident on this list.

Use the date selection at the top to request these visit results in the list. The date refers to the visit date! Use the filters to filter this grid. You can search and filter visit locations to display and export all visits for one location on the list or you can search and filter visitor roles (e.g. staff) to consult the information about all signed-in staff members for a specific period of time.
In the right column, you can adjust the status of a visit via the action button.
The following visit statuses are possible:
Scheduled
Prescreening OK: After the visitor or staff has answered the prescreening questions
Canceled
Sign-in
Sign-out
No show
Refuse
To register all visits made at the end of the day as 'Sign in', you can make a status change on this series of visit tickets by checking the far left of all logged visits of that day (all except the red ones) and Select the desired status 'Sign out' at the bottom of the action button.
You can also export this list to Excel or PDF. For this, you first prepare the list with filters, date selection, etc as you wish. Click on the [Export] button at the top and choose the desired format.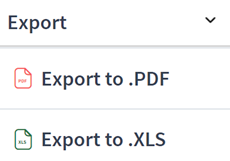 NEW | Multiple visitors
+1 near the visitor's name shows that this person signed in with someone else. Click on the line to open an overview of the visit.

In the visit overview, you can consult 1) screening & sign-in information about all visitors by selecting the name in the drop-down list.
In the bottom left corner, you can consult 2) the information about each visitor of the visit and change the status separately.