In the User management all billable items cross-over all services are collected in the Invoice overview.
Go to User managment in backoffice (left panel) to view the tab 'Invoice'. In this Invoice grid, we list all billable items per user, throughout all services.
For each user we list 1 line with the sum of all exported billable items, and 1 line with the sum of all unexported items, if any. By default, only the line for the exported items is shown is this grid. Tick the box ' also include exported records' on top of the list if you want to view all items in the list.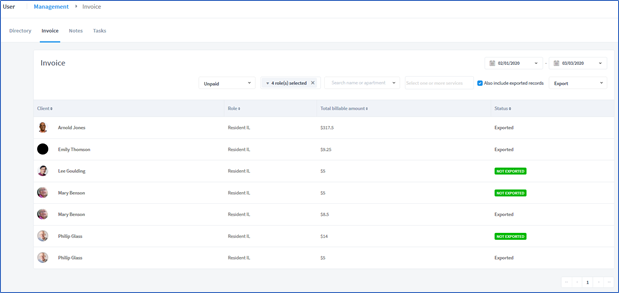 Use the filter on top of the grid to modify your result:
datepicker: set timerange for the billable items, default is set to first and last day of previous month;
unpaid/paid: there is a different export file format for paid vs unpaid items;
role selector: select roles for which you want to export billable items, all resident roles are selected by default.
search name: search for a specific user to export billable items for 1 user
select one or multiple services, if no services selected, items are exported for all services
'also include exported records': once a final export has been made of billable items, these items get an exported status and are by default not shown in the grid anymore and not included in the next export. Select this checkbox option to show the already exported items anyway and to include them in the export.
export dropdown: the export dropdown offers a final and a draft .csv export. The draft export has no impact on the exported status of billable items, unexported items only get the final status 'exported' when generating the final.csv file.
The current export formats are Yardi importable formats. The file with the paid items (Journal revenue file) contains the items that were paid by card or cash in the dining POS service. All other billable items are exported as unpaid items to the charges export file.
The charge export file contains both a Yardi resident code and a property/community code. Both codes are stored in Cubigo; resident code in the resident profile, property code in the backend community configuration.
Example export file (importable for Yardi):

In this export file, the billable items are split up, including resident code, community, service, transaction date and post month, charge code and amount.
External ID (such as Yardi ID needed to uniquely identify the resident to Yardi) is stored in the account section of the Cubigo profile: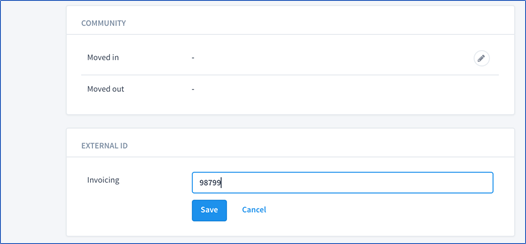 Important notice:
After having exported the billable items in the final.csv file, these billable items of the request become uneditable in the request.
E.g. warning in a POS dining request to indicate that billable info is read only: