For restaurant in community, it's important to have a real time overview of the guests, the table and order status. Therefore click on the 'I' icon
at the top right (on every page) to open the census real time information which contains:
the table status color legend
a live census overview: the census list shows all residents that are currently seated in the dining room, per level of living. This way, the chef and servers get an idea of how many residents still to expect during the service.
In the census info screen, we show the number of present residents versus the total number of resident in your community per level of living based on the list in the user management module (eg Resident IL 5/18 attending).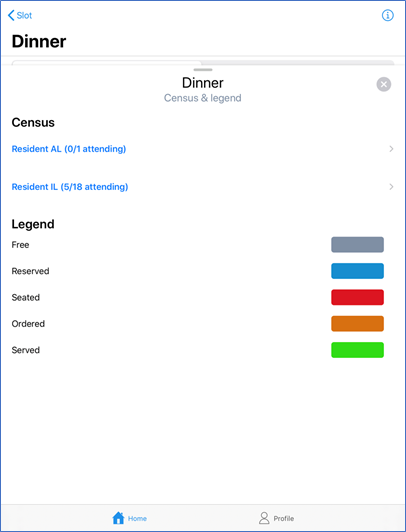 When clicking the resident count (5/18) , a name list is shown for those who are present and the ones missing. This way, at the end of the dining service, staff has an overview of all residents that did not come down to eat in the dining room and can check up on them.