Finally, when all courses and dining items are being served and eaten, the dining order must be paid and closed for this service in order to assign the next guests to this table. Herefore Cubigo mentions [Close] as payment action.
NOTE! If you should forget to close a dining order, the table color won't turn into grey and so the table is not available for the next service. A warning is shown in the table overview for the next service, indicating that the table is still in use from the previous service. The server will need to go to the previous service, close the table there and go back to the current dining timeslot to start adding orders.
The payment methods are configurable per community and user role and can contain the following options: on account (= invoice), cash or card. On top, you can ask Cubigo to configure this per user role, so only residents can pay on account (via invoice) at the end of the month.
The page detail gives all information about the dining items and the total price ordered per guest at this table. You can print a receipt for the guests before the payment is processed.
Select the guests that want to pay.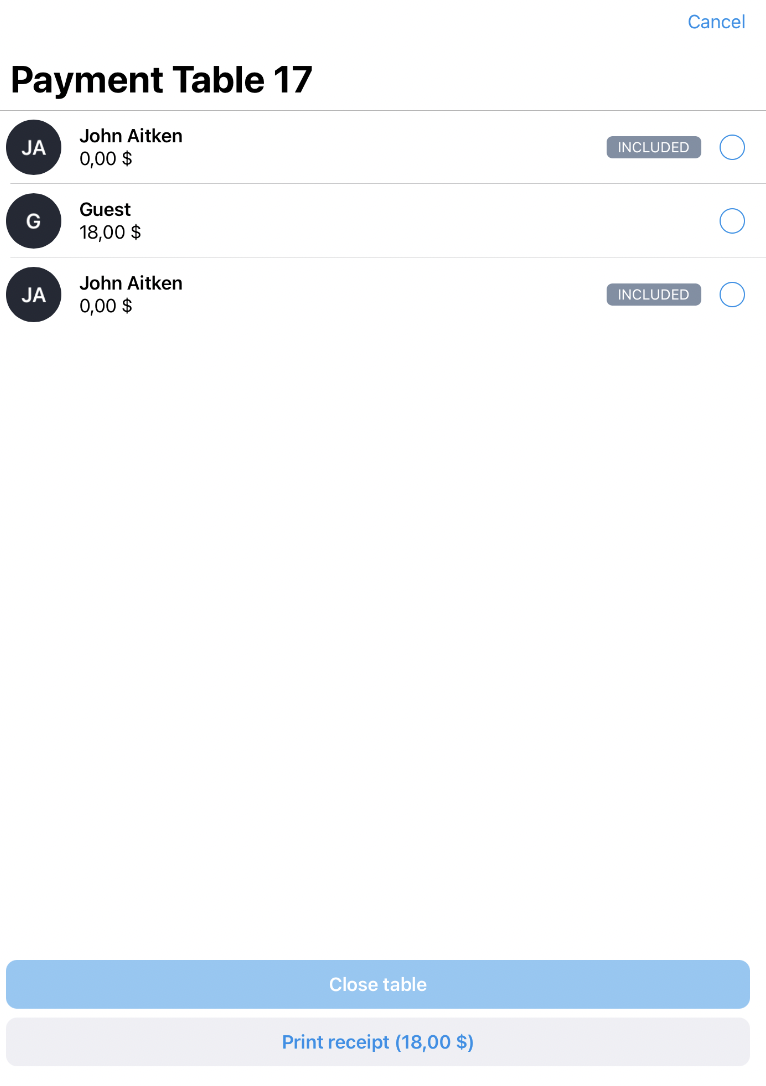 Click on pay.


Select the payment method and close the table for this guest.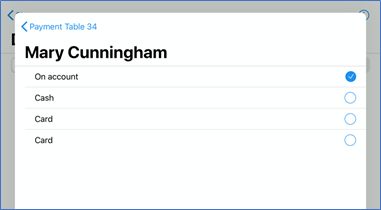 Wallet payments
On top of on account by card or cash, Wallet credits can be chosen as a new payment method. If the Wallet is empty, another payment method can be selected.
We also included the ability to pay with a combination of credits and other payment methods, including 'on account'.

If certain items can not be paid with Wallet or the wallet balance is too low, an additional payment method can be selected. If the combination Wallet + on account is used, the amount separation is done on item level (maximum number of items is prompted for Wallet payment). If the combination is Wallet + cash or card, a custom amount separation can be done, this is not necessarily on item level.

Depending on the payment method, items are also added to the paid or unpaid invoice export, available in Cubigo Payments.

If all people at the table have Wallet as the preferred payment method and all items can be paid with the wallet balance, a table can be closed quickly by confirming the wallet payment for all people at the table with 1 click.

The current credit balance is visible for the server in the POS app and is printed on the dining receipt. The resident can also check his/her Wallet balance in the user profile.