Finally, when all courses and dining items are being served and eaten, the dining order must be paid and closed for this service in order to assign the next guests to this table. Herefore Cubigo mentions [Close] as payment action.
NOTE! If you should forget to close a dining order, the table color won't turn into grey and so the table is not available for the next service. A warning is shown in the table overview for the next service, indicating that the table is still in use from the previous service. The server will need to go to the previous service, close the table there and go back to the current dining timeslot to start adding orders.
Click on the specific (green) table to process the payment. Now we offer 2 payment options: bill split by consumption or no splitting (one guest pays all).
The payment methods are configurable per community and user role and can contain the following options: on account (= invoice), cash or card. On top, you can ask Cubigo to configure this per user role, so only residents can pay on account (via invoice) at the end of the month.
The page detail gives all information about the dining items and total price ordered per guest at this table.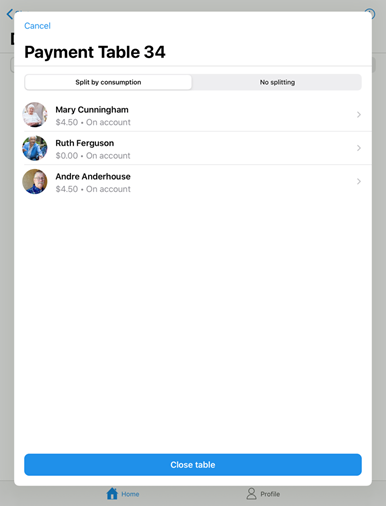 By default, every resident gets charged on the invoice for only the items he/she consumed. The guest (resident, visitor or family ) can also choose to pay for the entire table. In that case you first select the payment option [No splitting] and then select the guest who'll pay and the payment method. Finally, close this payment.