Now the guest is seated at the table, you can hand over the menu and start the order taking starting by clicking the table (in the overview or in the list). Click on Order to start the order taking.

Read here the consecutive steps on how to take the dining order:
Step 1

: Select the first guest to register his/her order. Therefore click the user name to start adding the desired dining items for this guest or use the [ + Item] button at the right. The dining item detail screen opens. Staff can start taking orders in the seating flow (after action button 'seat') or can add orders at all times for people that are already seated (action button 'order').

Step 2:

From the dining item detail screen, you can select the dining items from today's menu (all daily specials in one overview) or from 'à la carte' for every course separately. All items are shown per course.

Step 3

:

Take the order for each guest at the table. Click the 'next' button (at the bottom) with the guest's name to quickly navigate to the next person seat

ed at this table without having to return to the order detail overview. The app will guide you step by step to take all orders for all guests seated at a table together. Here, you can also copy the exciting order.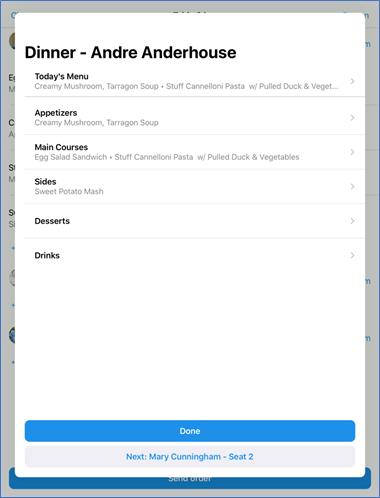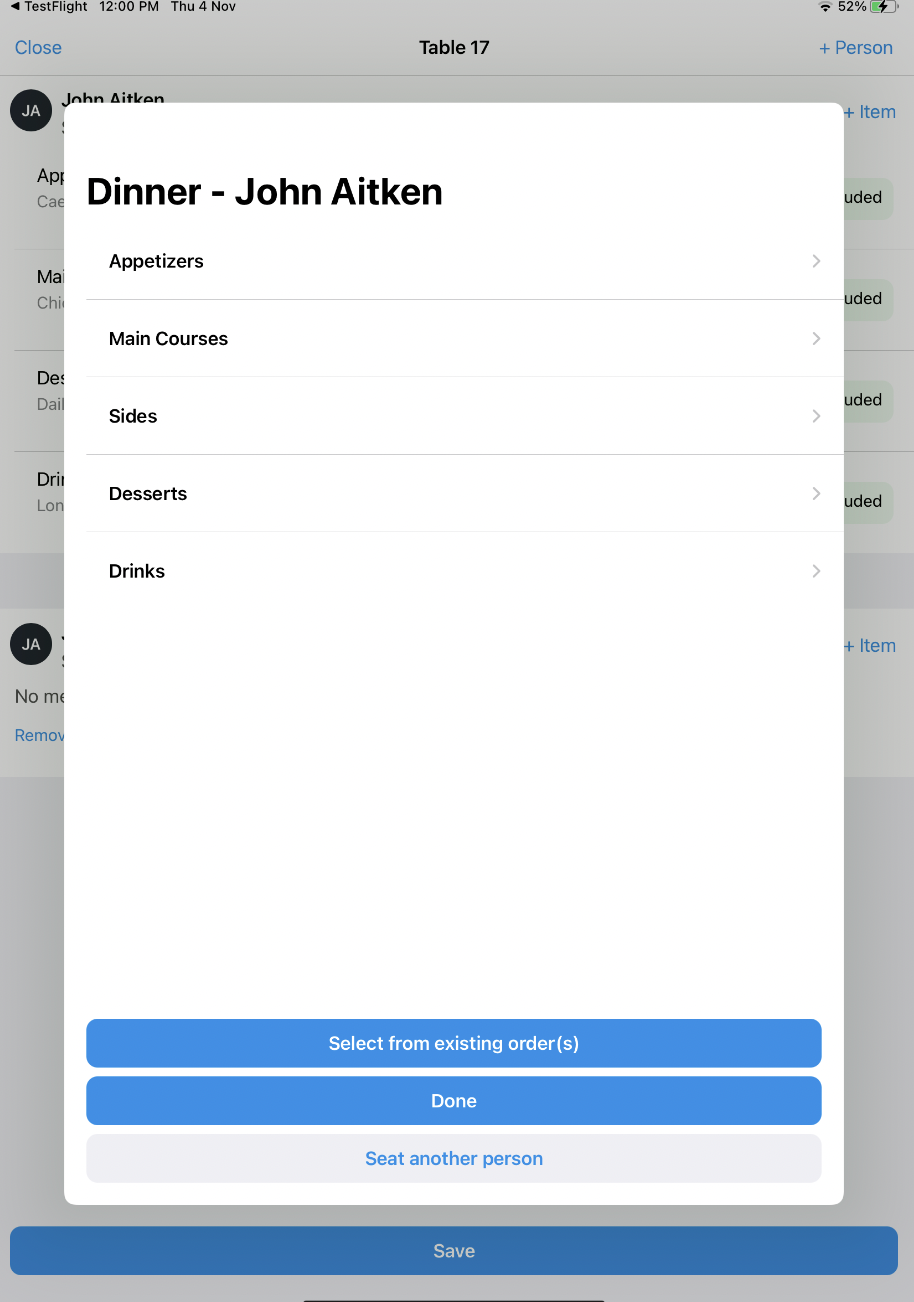 The dining items are listed per course ( Appetizers, Main courses, Sides, Desserts). Just tick the box next to the chosen dining item. Per guest, you'll get an overview of the dining items selected.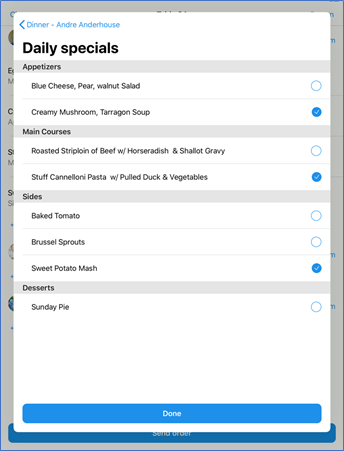 End this process with [Save] and choose how you want to send the order.
How to send only part of the order to the kitchen you can find here.
The table color changes (orange) and the ticket is sent to the kitchen for food preparation.
Search
You can use the [Search] bar to find any item you need: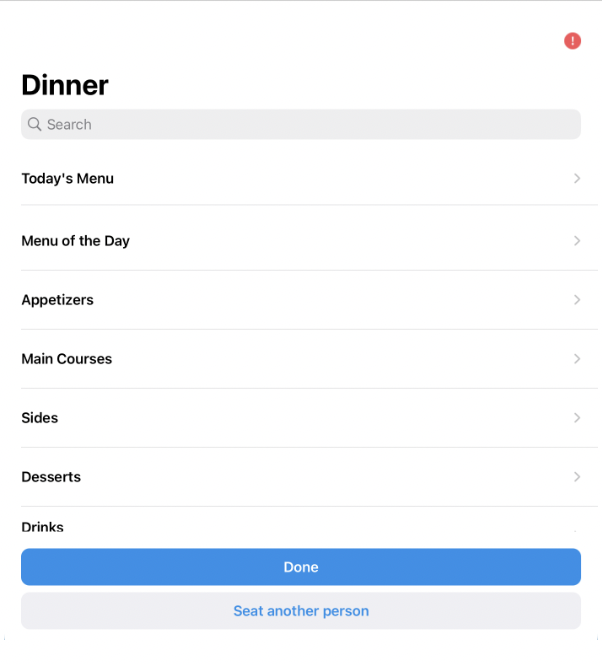 Add modifiers/accompaniments
For the meal items that have modifiers, you can select all required and optional modifiers by tapping on the line with a modifier group and then selecting it.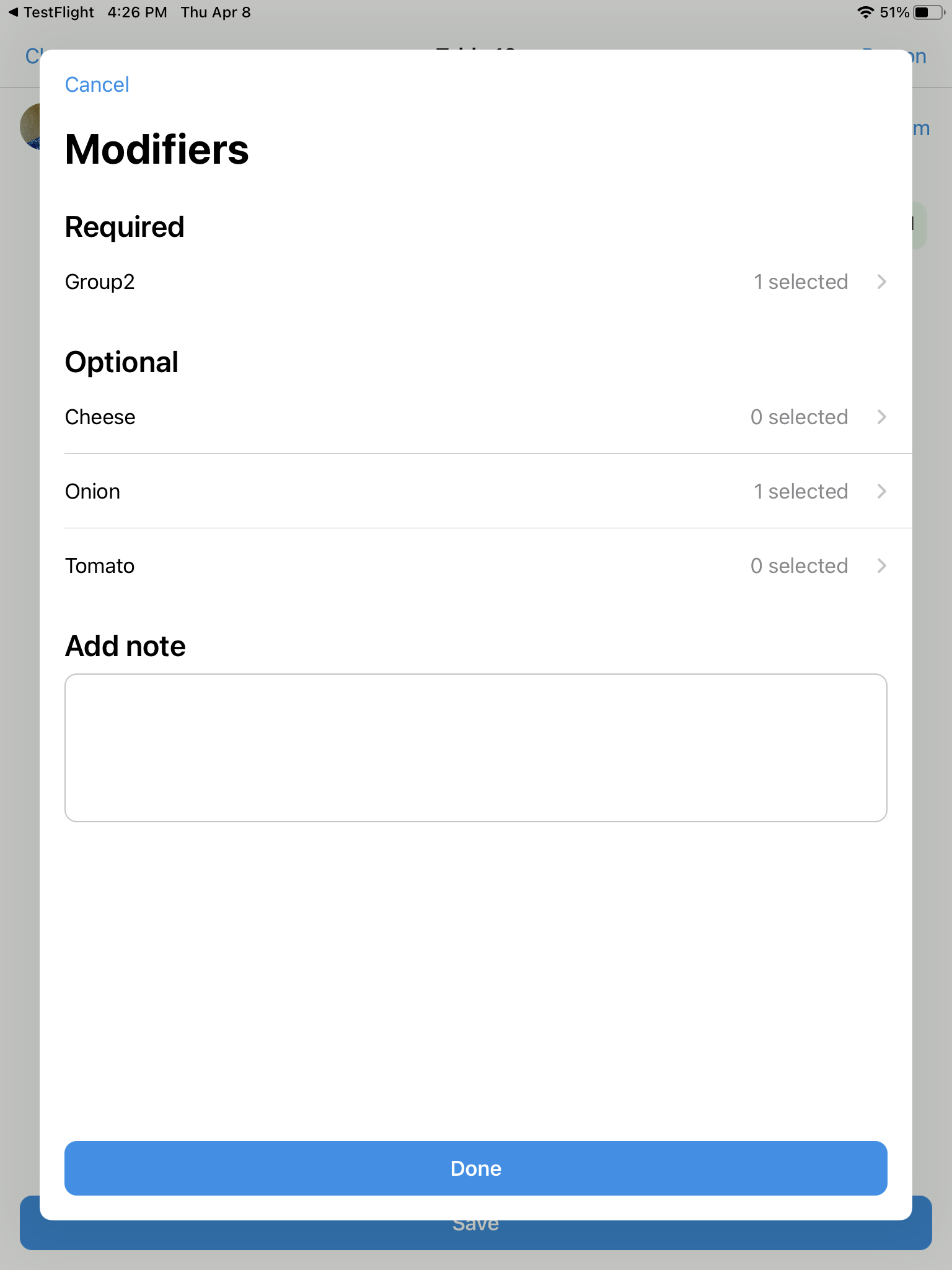 Add items
If a table has an orange color, this means that the order is taken. The people seated at the table might want to add additional items to their order.
To do this, click on the table and click on [Order]. You will then be able to add items to their order:

Order one item multiple times
When doing a left swipe on an item, an additional action 'Amount' will be shown. Using it will prompt an amount selection at the bottom. Here the user can easily adjust the number of times the item needs to be ordered. This feature is only useable for unknown people.

Read here about how to process an order to the kitchen.