With the Suggestions cube community members as residents and guests can reach out the community staff with suggestions and/or ideas or questions.
Begin by opening the Suggestions cube by clicking or tapping on the icon. The cube opens and you see an overview of this service as follows: 
You can enter a contact request by pressing the button [Make a suggestion]:

You can fill out the contact form starting with the selection of the type of suggestion you want to make. Select one from the type list ( activities, dining,  .... ). Next you can precisely describe in the text field your suggestion. If you enter a suggestion related to the community activities, please give the following detailed information: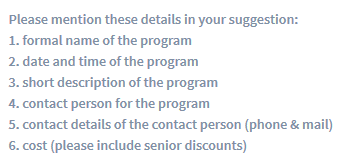 Finish your suggestion by clicking the Submit button. The community staff will receive your suggestion and respond to you within the appropriate time.