There are multiple ways to subscribe a resident, family or volunteer to a community activity.
Option 1: via Activities cube at your home screen (front office)
Via the front office all users with the admin, staff, volunteer or vendor role can take attendance and/or subscribe residents for an activity.
Click on the Activities cube, View activities and search in the calendar for the specific activity you want to subscribe to. Click on the specific activity tile to open the activity details.
In this detail screen you can perform multiple actions as 'add attendee', 'take attendance' or copy the link to a news article.
Select 'Add attendee' if you want to subscribe someone to this or the recurring activity. The name of this person will appear in the information 'Attending'.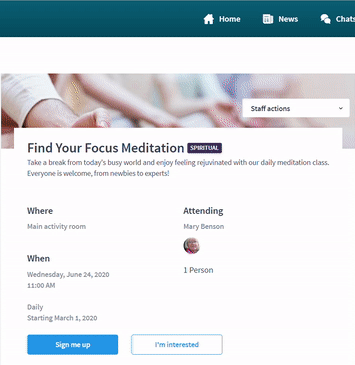 Option 2: via back office panel for Activities
As a staff member for Activities, you can also add attendance or take attendance via the back office panel in your Activities service.
Go to the Activities|Items in the back office and select the specific activity from the grid by clicking. The activity detail opens and shows a second tab 'Attending'. On this page you can manage the attendance. Click 'Add attendee' in the top bar (right) to add a person (resident, family, prospect, ...) to the attendee list (before the activity started).
You can also click 'Take attendance' to open and manage the attendance list (after the closing of this activity up to 7 days later).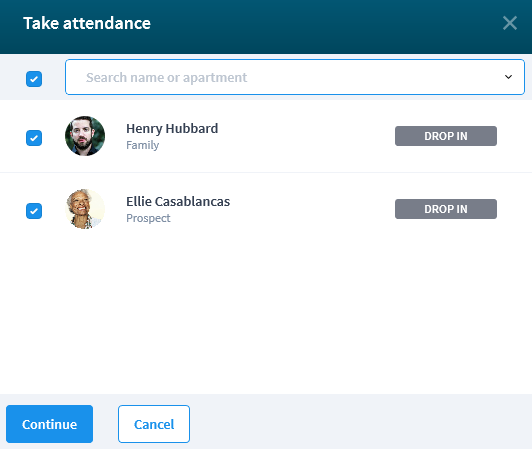 In both scenarios the subscribed person will get the notifications according to this activity.