This procedure is relevant while you'll search for users regularly.
Each column of the user grids has a header ( Name, Email, … ) with a filter icon next to it.

By clicking on the Header name ( Name, Email) you can switch the sequence in the listing beneath.
To find or search for a specific user, you fill in the name of the resident or the apartment number in the search bar.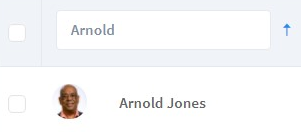 To return to the complete overview of users, you need to clear the filter.