As admin you are enabled to install a family relation between a contact and a resident.
It's the residents who give you permission to register the consent given by him/her in order to share data on engagement and service requests with it's family.
As admin you can create a new user, and while creating the user:
send out an invitation mail to onboard this user
define one or more contacts by selecting an existing user(s) and specifying the relation (father, child…)
enable follow up for the contact if the relation is made between a resident and family user
As community you can specify a welcome text to onboard your family users.
Option 1: create a family user and install relation to resident
Go to user management and click on [Add user]. A user contact form opens where you can enter all relevant user information. In the lower part of this form you can enter the relation to one of your residents and register the consent. You can also enter a personal note to detail this relation.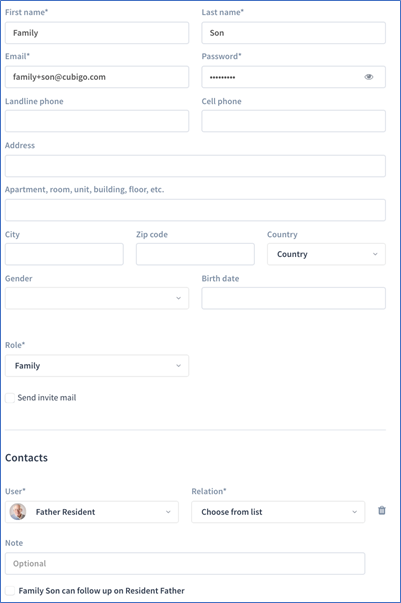 Now this user is created as a family relation to one of the residents. Immediately you can send an invitation to this user to join Cubigo.
From the first visit this family user will receive the family widget on his homescreen.
Option 2: install a family relation on existing user
If a user is already known in your community as family, you can install a relation to a resident and register the consent given by the family.
Herefore you go the resident's profile where you add a contact. You select the existing family user from the dropdown. You can detail the relation (type and note) and register the consent given by the resident to share information with this family user.