As admin and staff user you can enrich the resident's profile with contacts and contact information. Relevant family contact information can be stored here, indicating who'll operate as primary contact for the resident. So you go via the user management to the contact section of the profile. Staff/admin can define a type of contact and enter a relation (eg parent, child) for the contact and optionally enter a note with more details (eg mother, son). This can be done for a new contact or for an existing Cubigo user as contact to a resident.
Here you start creating a family relation in Cubigo which allows the family user to follow up on the loved one's engagement and schedule. Check the box to register the consent given by the resident to share data on his/her requests and activities with the connected family user.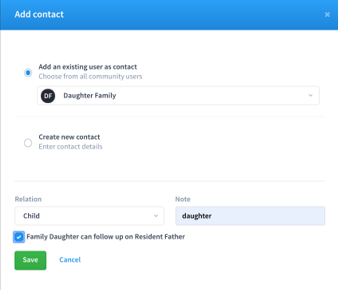 So you can now store the following contact types in a resident's profile:
'userless' contacts, mainly to keep contact information of the resident's network. These persons are not invited by you to join Cubigo so they have no Cubigo account.
contacts that are onboarded in Cubigo upon your invitation, have an account and can access the community without an active family relation (no follow up activated, no personal data shared)
contacts that are onboarded in Cubigo upon your invitation, can access the community, have an active family relation and so have the right to see personal data of their loved one(s)
Once this relation is installed by admin/staff, the family user and resident can delete a contact (each other), change the relation type and activate/deactivate the follow up right in the contact section of their profile. They can't install the relation by themselves. They can only create 'userless' contacts.