For community members with a Family role, Cubigo offers a specific widget on the home screen where you can follow up on the service requests and activity engagement on your loved one.
If a relationship is established between a resident and family user, the admin/staff or resident can allow a family member to follow up on the resident via Cubigo.
In that case the family dashboard will be activated as a widget with 2 tabs on the family's homescreen : Schedule and Engagement. A family user can follow up on multiple residents in one community ( eg father and aunt). In that case the widget appears below each other on the homescreen with the picture/avatar for the resident.
Schedule shows a chronological thread of all service requests made by or for the resident, related to all services as transportation, dining, activity subscriptions, maintenance, housekeeping and IT support. Unscheduled request as for maintenance and IT support are shown on their request date. Scheduled requests as a dining order are shown with the date the order is placed for. The icon refers to the service, the current status ( requested, approved, ....) is shown for each ongoing request.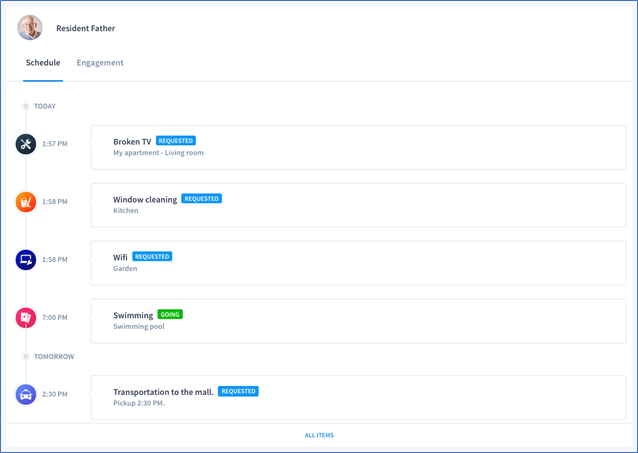 Engagement is represented in 2 graphs shows details on the activity engagement (left graph) and an evolution ( right graph).
The left graph (pie chart) shows the total number of participations for activities (subscriptions and drop ins) for the last calendar month for the resident your connected to. This engagement is categorized by the 6 dimensions of wellness, and shown in absolute numbers and by percentage.
The right graph (line chart) shows the number of activities for which the resident has a sign up or drop in per calendar month. Below the graphic the number of drop ins and sign ups are shown separately, and additionally the number of interested subscriptions and no show / attended attendence statuses are shown. When using the month selector, the numbers below change accordingly and the dot for the selected month is highlighted in the curve.