The Cubigo Desktop App for Mac OS X is available for download here: https://cubigo.com/en/product/download/

1. Click on the green "download" button


​

2. Once the application has downloaded, click and open the downloaded file

​


3. Drag the Cubigo Logo onto the Applications Folder


​

4. Your Applications Folder will automatically open - double click on the Cubigo App to open it

5. A pop-up message will appear
If you see this one, Click Open
​
If you see this one, click open- Cubigo is an identified developer and the Application is verified and secure.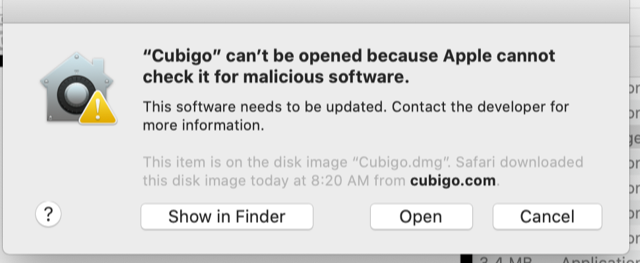 If this pop-up appears, click ok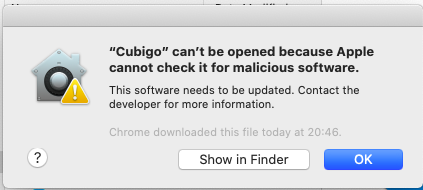 Now go to your System Preferences | Security & Privacy and click "open anyway".
6. To pin the app to your Dock, right click on the application, Select Options | Keep in Dock.

​

​​
And you now have Cubigo installed on your Mac desktop.
Technical requirements
Mac OS X 10.9 (Mavericks) and higher
Go to https://www.cubigo.com/download to find your appropriate download.