If you want to download an overview of all the ordered meals, first open the Administrator's overview of the Dining cube in the side bar Dining | Requests.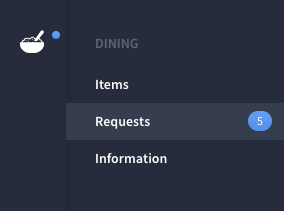 Select the orders you want to export with the filters at the top of the list. If you have difficulty with that please read this article:
How to find, edit or select the items in an overview page
Download an overview
Once you have changed the display, for example to only show only the requested orders for lunch today, simply press the download icon. You can find it at the top of the list next to the date selector:

A download is initiated of a .pdf file with the following items:
Resident's name
Apartment number
Number of items
Order date
Delivery date
Handling (Delivered or picked up by resident)
Status (requested, ready, delivered, cancelled)
Where downloaded files are stored depends on the Operating System of your computer, tablet or smartphone. Please refer to the manual of your device if you cannot find it. Usually downloaded files are stored in a folder called Downloads.
Export to xls
Starting from the grid, you can also export information to an xls file. Use the date pickers and column filters in the grid to prepare your overview, then click on the export icon ( top right next to pdf) to generate an xlsx file. This xls allows you to easily filter on payment types and easily calculate an outstanding payable amount for a resident within the selected time period.
The xls file split up on the items ordered in one request. In this example order 1189 contains 3 different meal items. This detail helps to kitchen staff to calculate the exact number of orders per item per mealslot (dinner, lunch).

Download a menu item
To download a seperate menu request, click on ' create pdf' in the bottom. The pdf will be generated and is printable on your connected device.