NOTE!
Only corporate admin of your community has the permission to permanently delete a user, staff member or administrator account.
What happens if you deactivate a resident?
a resident will no longer be visible in the user list, only if you search on 'inactive';
requests for visits, meals, maintenance etc. can no longer be scheduled for deactivated residents;
this resident will no longer be able to register for activities;
if this resident has contact persons (in Profile--> Personal), these relations will continue to exist;
in case of a family visit, the planned visit requests will be cancelled. The visitor will receive a message about this via email and a notification in the application.
If you want to delete a user, staff member or administrator account you can use the function 'deactivate'. In this case, this user will not be in your system anymore but you can always return this user back.
If you want to deactivate only one user, then find the user in the Admin overview. On the right-hand side of the column you can find the Action column.

By pressing Choose you open a status list and choose Deactivate to hide this user.
To make sure this is no mistake we ask you to confirm that you really want to deactivate this user. By pressing Yes the user's Cubigo account will be deactivated.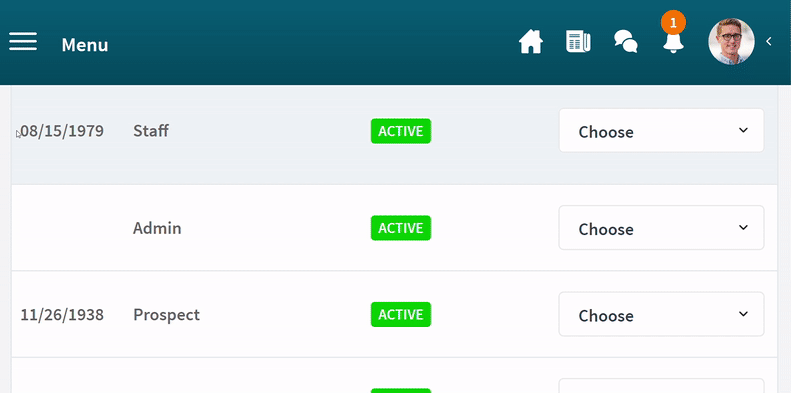 If you want to deactivate any number of users then deactivating them one by one can be a hassle. It is possible to deactivate a number of accounts at the same time.
Select the users you want to deactivate by checking the box before their names. If you are unsure how to do that please read the following article:
How to find, edit or select the items in the overview page
Once you have selected these users press on the Choose menu at the bottom of the list: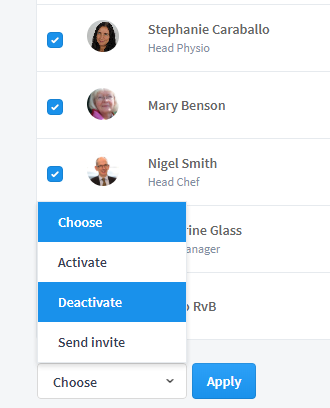 Choose Deactivate. By pressing Apply these user's Cubigo accounts will be deactivated.
If you want to return deactivated users, you have to go to the filter button near the status, choose deactivated accounts and change the status of the user back to 'active'.