There are two ways in which you can delete a user, staff or administrator account.
Method 1

If you want to delete only one user, then find the user in the Admin overview. On the right-hand side of the column you can find a trash icon. By pressing that you can delete the Cubigo account of that user.
To make sure this is no mistake we ask you to confirm that you really want to delete this user. By pressing Yes the user's Cubigo account will be deleted.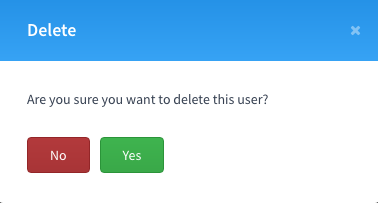 Method 2
If you want to delete any number of users then deleting them one by one can be a hassle. It is possible to delete a number of accounts at the same time.
Select the users you want to delete by checking the box before their names. If you are unsure how to do that please read the following article: 
How to find, edit or select the items in the overview page
Once you have selected these users press on the Change status to menu at the bottom of the list:

Choose Delete. By pressing Apply these user's Cubigo accounts will be deleted.