Your Cubigo homepage is the central page where all community information, services and a personal timeline are available. It is like a personal compass that helps guide you throughout the day.
The layout of your Cubigo may differentiate from what's shown in the articles as your community can choose for it's own 'white labeled' company-branded solution.
Lay-out
We offer different layouts for the home screen, according to your personal preferences.
The default layout shows bigger cubes on your home screen and your personal schedule on top. You can choose for a more interactive layout that shows widgets to news, dining, and weather.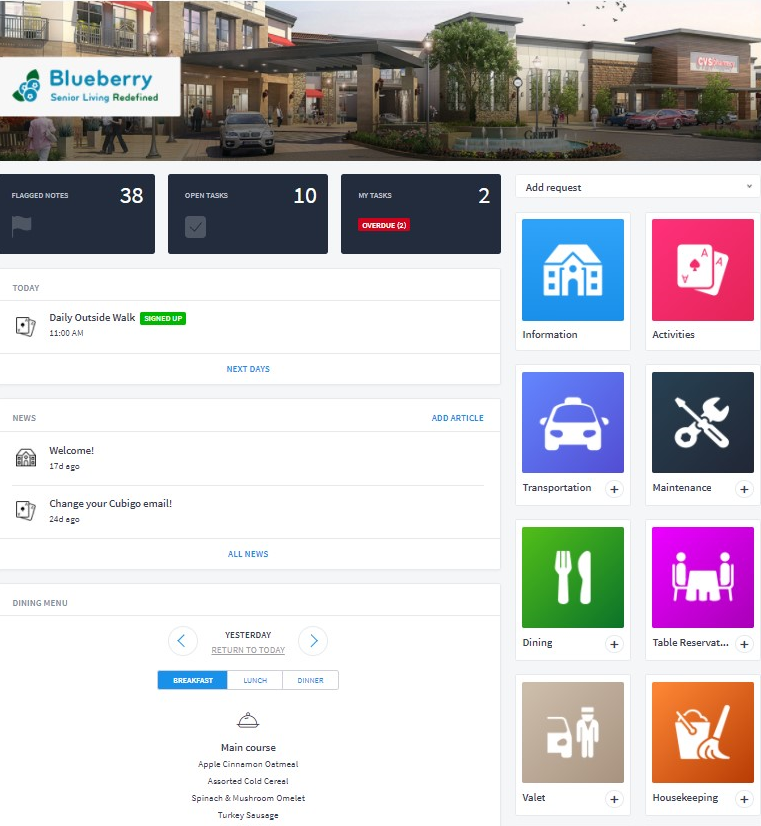 The weather widget informs you about the local weather for today and the coming days.
You can choose one of those layouts via your Profile menu.
Above the letter font selection, you can toggle the 'Hide Widgets' option. You can easily switch between both options via this toggle button.

Personal timeline
On top of your home screen, your 'Today' schedule will show the overview of your planned activities and services (indicated with icons) via a personal timeline. We will remind you in time via notifications (see notification center in the colored bar).
This personal timeline gives you an overview of all your requests and activities scheduled for next week/next month. Click the ' Next days' button to check what's on your agenda for the coming days.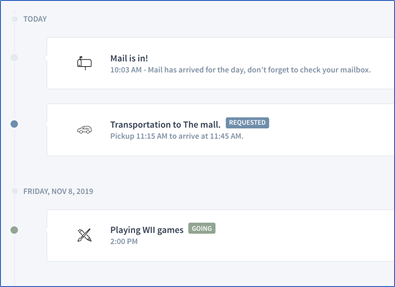 Here we also inform you when the mail has arrived in your community. You'll receive a push notification on this. It's not posted in the notification center.
We also congratulate the community members on their birthday. You can choose within your profile if you want this message to be broadcasted.
News
There is also a news feed on the homepage, available for all users. This feed contains a summary of the 2 most recent news items (with the service icon and timestamp). You can click on a news item in this feed to read the full article and see any images or comments in the news thread. Via 'More News' you can enter the full News service, with all news items.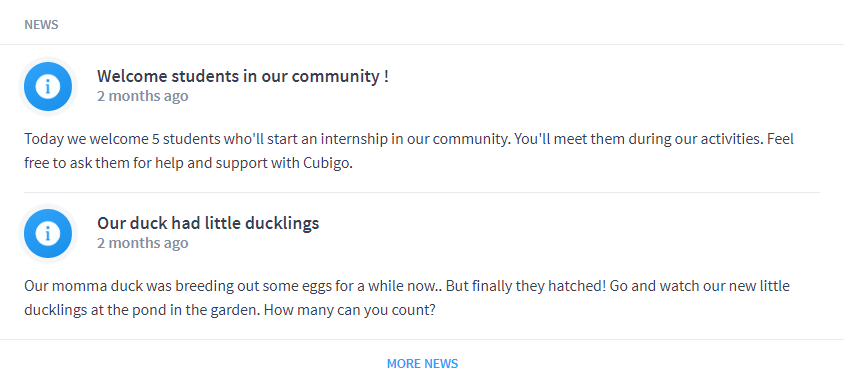 Dining
The widget gives you an overview of the daily dining specials. Clicking on a course or dining item takes you to the item in the dining cube. Clicking on the timeslot at the bottom (eg Lunch) takes you to the course overview for that timeslot.