If you want to edit an activity first open the Administrator's overview of the activities in the sidebar Activities | Items.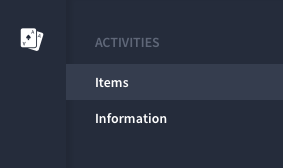 Select the item you want to edit from the list. If you have difficulty finding the item you look for please read this article:
How to find, edit or select the items in an overview page
If the item is recurring you will be asked to choose between only editing one particular instance of that activity or edit all the instances of that article: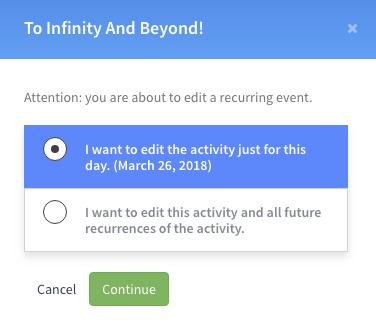 Choose what is appropriate for you.
NOTE!
Once an activity has been changed "just once" the connection to the recurring activity is severed. Changes made to the recurring activity will no longer be applied to that particular activity.
For an overview of all the available fields when editing an activity please look at:
Items | How do I add an activity?
There is one field that is available in this view and not in the [Add activity] view:
Status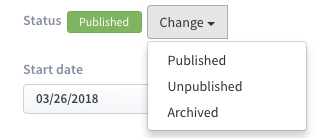 Here you can set the status of an activity.
Save Activity

After finishing editing an activity it is important that you save the changes to the activity because we do not save the information until you do.
In certain cases we display this message: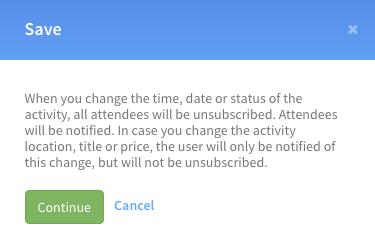 When you change the time, date or status of the activity, all attendees will be unsubscribed. The subscribed attendees will be notified.
In case you change the activity location, title or price, the attendees will only be notified of this change, but will not be unsubscribed.