The profiles of the Cubigo users are divided into subgroups: Contacts, Residents and Team members according to their role on the platform. Each of these sublists is structured in the same way and offers the same options for creating, searching and modifying a profile.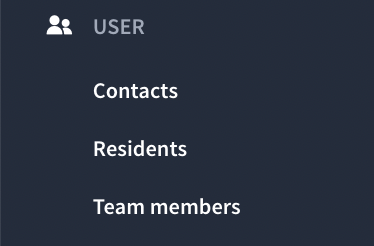 Contacts
On the contact page, you can find all the users with the following roles:
Assistant
Care provider
Contact
Family
Guest
Prospect
Service provider
Vendor
Volunteer
You can use the filter grid to find the user or navigate to a specific tab: All, Famly (Contact and Family), Prospects, Volunteers, Providers (Care provider and Service provider), Other (Assistant, Guest).
Residents
Directory
The Directory displays an overview of all the users that are activated for your community.
Here you can add, remove and de-activate profiles as well as edit the profiles of your residents in Cubigo. See the next few articles for an explanation of how that works.
Profile deactivation has the following consequences:
- Login attempt: "Invalid login attempt."
- Requests get status canceled, request comments get status read, activity signups are deleted
- User is no longer shown in the directory
- User is no longer available when adding a request as staff/admin or adding attendants
- After reactivation, the user can see request histories again
Birthday calendar
From this directory, you can activate a birthday calendar. Only residents that allow for sharing their birthday in the community are listed. Age is only shown if allowed by the resident. The birthday calendar is exported in a community branded MS Word template.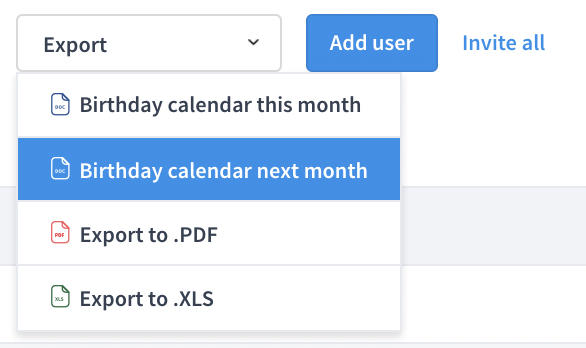 Notes
This section lists all notes registered in chronological order ( most recent note on top of the list) with an indication for for flag. A flag refers to an action to be taken. Click on a note line to open the note. You can use the filter and selector to work in this grid.

Tasks
This section lists all tasks registered in chronological order with an indication on the assignee, he status and an action button. You can use the filter and selector to work in this grid.

Team members
On the Team members page, you can access all team members' profiles. You can use the filter grid to find a specific team member: