When using publicly available devices, by which we refer to a computer or tablet that is not your own, then it is important to log out of Cubigo so that the next user does not have access to your personal information. If you are using a personal device, not logging out will keep Cubigo quickly accessible to you.
Go to your personal Profile via your photo in the top-right corner.
On the Profile page select Logout to log out.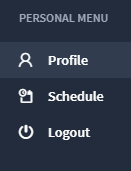 Now your session in Cubigo will be closed. The next person who will use this device after you will not have access to your Cubigo profile.
---
Note: If you are the only person with access to this device, there's no need to log out.