If you received account credentials, you can log in to Cubigo.
Please follow the link: https://community.cubigo.com or open the Cubigo app on your smartphone or tablet. You can also install Cubigo on your desktop.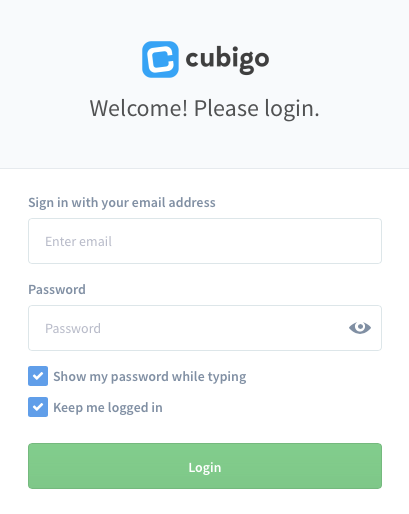 Enter your e-mail address and password and press the green button to log in to Cubigo.
Select "Show my password while typing" if you want to see if you are typing your password correctly.
Your personal homepage in Cubigo will open.
Welcome !
Members of a community will receive a personal invitation mail from the Community Director to log in to Cubigo.
The mail contains the 'Let's get started' action that onboards the user. The user has to finish this pre-registration by entering a personal password for Cubigo. Clicking on 'Create account' gives you personal access to your community at Cubigo. 
On your first visit, we guide you through Cubigo via an animated wizard to get a basic introduction of the available functionalities. Don't miss this short tour !