If you received an e-mail with your personal account credentials from Cubigo as sender. You can now log in to Cubigo.
Check the language setting on top of the message. Cubigo starts in the language of your web browser. You can switch to another language by clicking the button on top.
Please follow the link: https://community.cubigo.com or open the Cubigo app on your smartphone or tablet. You can also install Cubigo on your desktop.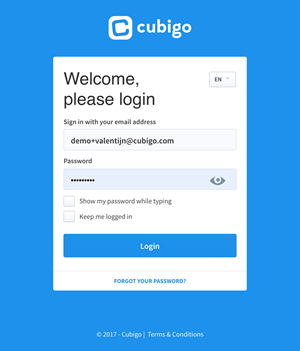 Enter your e-mail address and password and press the button to log in to Cubigo.
Select "Show my password while typing" if you want to see if you are typing your password correctly.
Select ' Keep me logged in' if you want Cubigo to recognize you and keep you logged in for longer time.
Click on 'Forgot your password' if you don't know your personal password.
Welcome !
On your first visit, we guide you through Cubigo via an animated wizard to get a basic introduction of the available functionalities. Continue this flow by clicking on the action button. Don't miss this short tour !