Support in your community
Unless you're a digital native, learning to use a digital tool can take some effort and time. If you get stuck, there will be someone in your community that you can reach out to for support. Cubigo provides training sessions for staff, so during open office hours, you can get initial help. More information will be provided on the schedule and the procedure.
Support is here
On the pages of our Helpcenter, we try to answer all the questions you may have. You'll find detailed information on each type of service.
But if you don't find the answer to your question here, please reach out for help! Our support staff will gladly answer any questions you may have.
You can submit a request by following the link at the top-right of that view.
Also, you can click on the Help button from Cubigo:
1. Top menu icon
2. Your personal menu
3. At the bottom of the screen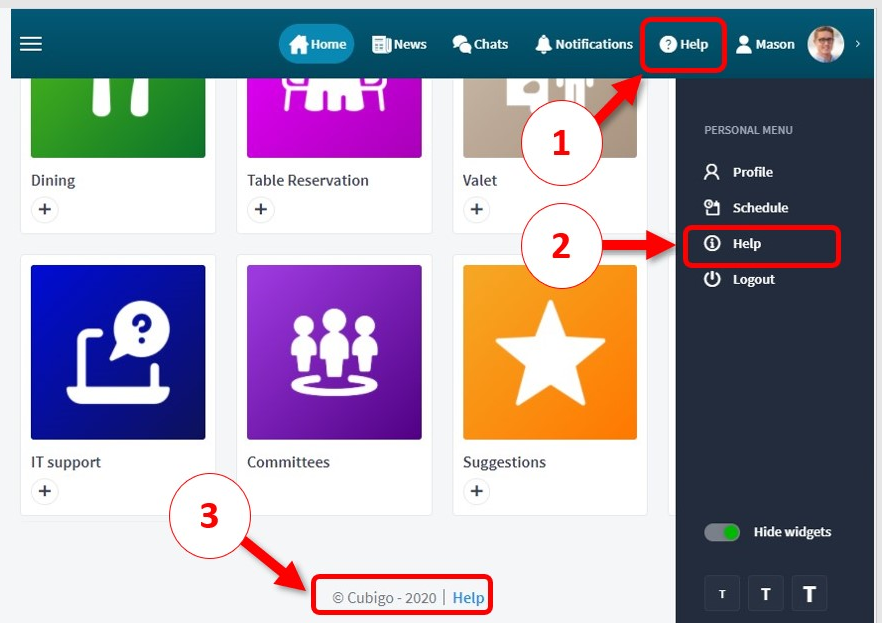 Contact Cubigo via e-mail
Are you a corporate Cubigo staff user? Please contact us via itsupport@cubigo.com .
Are you a resident or family Cubigo user? Please contact us via customersupport@cubigo.com
We will take care of your request and will answer you as soon as we can.